Cost
Free. This certification is available to you at no cost.
Format
80 short-response and multiple choice questions.
Alotted time
You have one hour to complete the exam.
Passing Score
You will need to score > 80% to receive the certificate.
The demand for professionals with Neo4j skills is growing tremendously. Now, you can become one of the first to prove your experience. Tomorrow's jobs require NoSQL and graph database skills – so invest now to advance your career.
Get Your Certification
Now is the perfect time to show your employer, customers, and colleagues that you are a Neo4j expert. With the Neo4j Certified Professional exam, you certify your existing experience and skills.
Take the Neo4j Certified Professional exam right now, and you'll be done in less than an hour.
If you pass the certification, you will be rewarded with a t-shirt in a color of your choice. Note that you are entitled to one free t-shirt if you certify.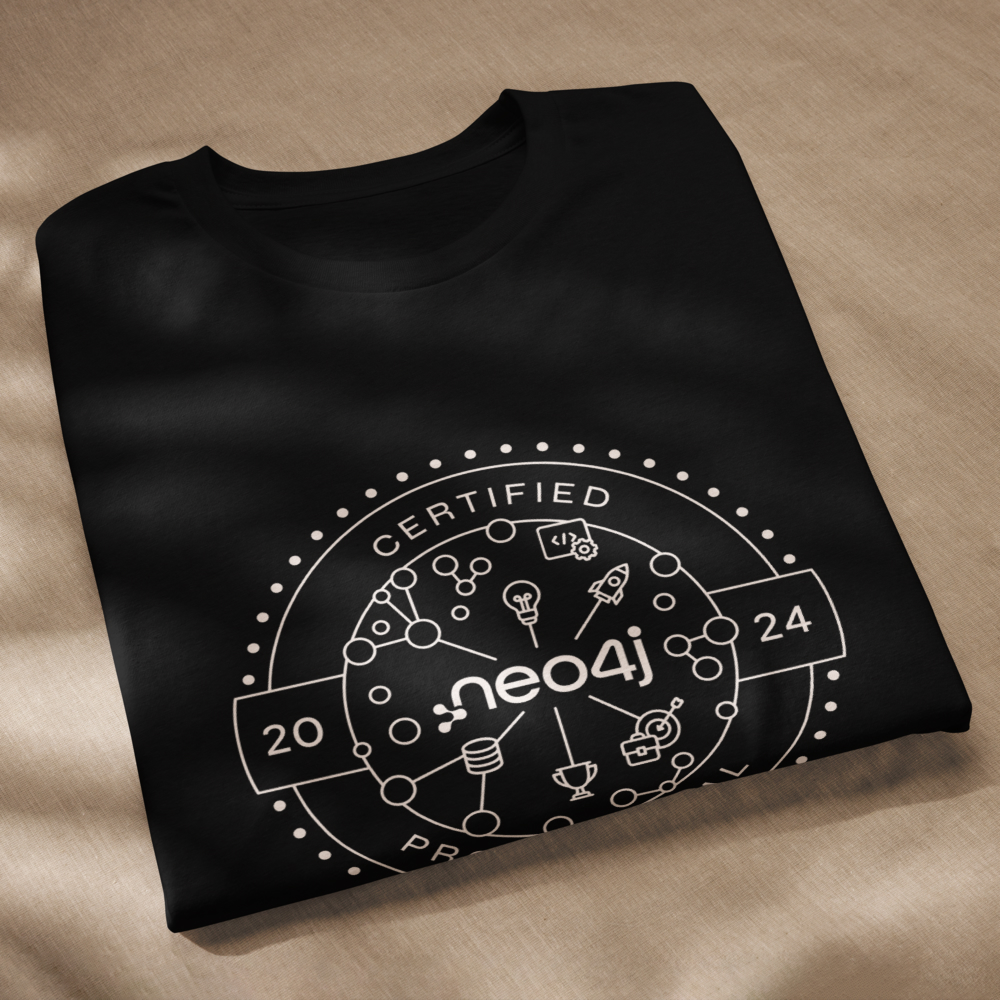 Frequently Asked Questions
How much does it cost to take the exam?

No cost – it's completely free!

What areas are tested in the exam?

The Neo4j Certified Professional exam tests you in using Neo4j in the following areas:

How long is the exam?

The exam includes 80 questions in 1 hour.

What score do I need in order to pass?

You must score 80% or above in order to be certified.

I just passed the exam but I do not see my certificate.

It could take up to 30 minutes for your certification information to be populated in the GraphAcademy system.

Can I retake the exam?

Yes, if you fail to achieve an 80% score or if you want to improve your score, you can retake the certification exam later after learning a bit more about Neo4j. Note that you can retake the exam after a 24-hour period. To retake the exam, delete your exam by clicking the Delete Certification link. Then you can re-enroll in the exam.

My certification exam says 'Pending' and I want to take the exam

If your exam is pending it is because you started the exam but didn't finish. Delete your exam by clicking the Delete Certification link. Then you can re-enroll in the exam.

Will I get a certificate document?

No, you will receive an email with a link to your certificate page that you can share with others.

Where can I learn the required skills?

You can take these free online training courses:

Here are other resources to learn more:

Are there other types of free Neo4j certifications available?
If you have questions around the Neo4j Certification Program or the exam, please send an email to graphacademy@neo4j.com.
Get Support
If you find yourself stuck at any stage then our friendly community will be happy to help. You can reach out for help on the Neo4j Community Site, or head over to the Neo4j Discord server for real-time discussions.
Feedback
If you have any comments or feedback on this course you can email us on graphacademy@neo4j.com.